Talk to Us
Send us a message via the below form and we will get back to you promptly

Call Us

Send us an Email
Q: Is there a minimum order value?
A: No
Q: What does shipping cost?
A: Shipping on all orders, no matter the size is FREE of charge to any address in Australia!
Q: Can I purchase Nedlands Group products through a wholesaler?
A: Absolutely not, all products should be purchased directly from Nedlands Group, to ensure that you receive the level of service that aligns with our brand!
Q: Who can purchase from us?
A: Only registered electricians and electrical contractors. This is designed to protect our clients we serve (Electricians and Installers).
Q: Who do I call if I have a technical query?
A: Our team on 1800 909 306 or email [email protected]
Q: Got a delivery, warranty or returns query?
A: Contact our team on 1800 909 306 or email [email protected]
Q: What can I return?
A: Almost anything, check out our Returns Process.
Q: What's my risk in the event of a warranty issue?
A: Zero – check out our Warranty Process, the risk is on us, we've got you covered.
1. DEFINTIONS AND INTERPRETATION
In these terms and conditions:
Background IP means all intellectual property rights owned by or licensed to a party which are acquired or developed by a party independently of the activities carried out or obligations performed pursuant to these Terms.
Cleared Funds means funds paid by cash, cheque or electronic funds transfer to the Supplier's nominated bank account which can immediately be drawn by the Supplier.
Credit Account means the Customer's credit account approved and made available by the Supplier from time to time.
Customer shall mean and include the party named as the applicant in the credit account application and shall also include any party to whom Goods and/or Services are sold pursuant to an accepted Order from time to time.
Event of Default has the meaning given to that term by clause 12.1.
Goods means the products, materials, supplies, equipment, and other goods that are subject of an Order.
GST has the meaning given to that term by the A New Tax System (Goods and Services Tax) Act 1999 (Cth).
Improvement means any development, modification, adaption, improvement, discovery, or innovation that enhances, modifies, or changes the usability, functionality, efficiency, performance, or other characteristic of Intellectual Property Rights
Insolvency Event relating to a party means:
(a) that party makes an assignment for the benefit of its creditors;
(b) a receiver, receiver and manager, administrator, liquidator, provisional liquidator, scheme administrator, trustee or inspector, or other person with similar powers, is appointed in respect of that party or over all or any part of that party's assets;
(c) an application is made to a court or a resolution of its directors, creditors, or members is passed for the appointment of any person referred to in paragraph (b) of this definition;
(d) that party commits an act of bankruptcy or is unable to pay all of its debts as and when they become due and payable or is deemed to be insolvent under any provision of the Corporations Act 2001 (Cth) or any statute or any other law; or
(e) an event occurs in relation to that party which is analogous to anything referred to above in this definition or which has a substantially similar effect.
Intellectual Property Rights means all industrial and intellectual property rights both in Australia and throughout the world, whether now known or devised in the future, and for the duration of the rights including any present and future rights to inventions including patents, patentable inventions, patent applications, modifications or improvements to the same, copyright, moral rights, registered or unregistered trade marks or service marks, registered or unregistered designs and commercial names and designations, circuit layouts, database rights and rights in relation to confidential information and trade secrets, know how, discoveries, methods, techniques, processes, recipes, plant rights, formulae, algorithms, modules, libraries, and databases, whether or not registered or registrable and all other rights resulting from intellectual activity in the industrial, scientific, literary or artistic fields.
Order has the meaning given to that term by clause 3.2
Penalty Interest has the meaning given to that term by clause 13.1.
PPSA means the Personal Property Securities Act 2009 (Cth).
Prescribed Rate means the rate fixed from time to time under section 2 of the Penalty Interest Rates Act 1983 (Vic).
Project IP means any and all Intellectual Property Rights created or otherwise brought into existence by the Supplier in the course of supplying Goods or Services, and includes, but is not limited to any and all Improvements to any Intellectual Property Rights that are created, developed or produced by, on behalf of, or under the direction of, the Supplier in connection with supply of the Goods or Services.
Quote has the meaning given to that term by clause 3.1.
Related Body Corporate has the meaning given that term by section 50 of the Corporations Act 2001 (Cth).
Services means all things to be performed by the Supplier in accordance with, and required to fulfil, an Order.
Supplier means A&K Investments (Australia) Pty Ltd (ACN 164 389 762) and any of its Related Bodies Corporate.
Terms means these terms and conditions.
2. GENERAL CONDITIONS
2.1 The Terms exclusively apply to the Goods and Services supplied by the Supplier to the Customer.
2.2 The Supplier may (from time to time) in its sole and absolute discretion vary, rescind, or replace these Terms or any document issued under these Terms.
2.3 An executed application for a credit account by the Customer or an Order placed by the Customer is deemed to be acceptance by the Customer of these Terms.
2.4 Any exclusion, variation, or addition to these Terms must be expressly agreed in writing by the Supplier.
2.5 These Terms shall apply to the exclusion of all others, including any terms and conditions of the Customer (whether attached, embedded, or referred to on the Customer's Order form, purchase order, or otherwise).
3. QUOTATIONS & ORDERS
3.1 The Supplier may give the Customer a quote (which may or may not be written) which (Quote):
(a) is an estimate only, unless expressed to be a fixed quote;
(b) is non-transferable; and
(c) automatically expires 30 days after its issue date, if an earlier date is not specified.
3.2 The Customer may accept a Quote by placing an order with the Supplier for Goods and Services which are the subject of a Quote (Order).
3.3  Each party acknowledges and agrees that:
(a) a Quote does not constitute an offer capable of acceptance by the Customer and each Order placed by a Customer is not a binding upon the Supplier until it has been accepted by the Supplier;
(b) the Supplier may in its sole and absolute discretion accept or reject part or all of any Order;
(c) the Customer cannot withdraw, vary or cancel an Order once accepted by the Supplier without the Supplier's written consent; and
(d) any withdrawal, variation or cancellation of an Order which is agreed to by the Supplier may incur a reasonable cancellation fee.
4. APPROVAL OF GOODS AND SERVICES
4.1 The Supplier will take reasonable care to ensure that the Goods and Services supplied to the Customer are in accordance with the Customer's Order.
4.2 Any errors or deficiencies in the supply of Goods or the performance of Services by the Supplier that have been overlooked by the Customer when accepting the Goods and/or Services will become the liability of the Customer.
4.3 Save for the Non-excludable Rights as outlined in clause 15.1, the Supplier is not liable for any costs, loss, or damage suffered by the Customer arising from, the supply of Goods and/or Services by the Supplier.
5. PRICE
5.1 The price payable for the Goods and Services is that specified in the Supplier's current schedule of rates, or an Order accepted by the Supplier in accordance with these Terms.
5.2 Prices may be increased without notice in respect of any increase in:
(a) taxes, duties and excises; or
(b) any other costs beyond the reasonable control of the Supplier.
5.3 Prices may be changed with notice at the sole and absolute discretion of the Supplier.
5.4 Prices are exclusive of GST and any other taxes, duties and excises, which must be paid by the Customer in addition to the price at the same time and manner as the Customer pays for the Goods and Services.
5.5 The Supplier shall issue the customer with a tax invoice with respect to an accepted Order.
6. PAYMENT
6.1 Subject to clause 6.2, the Customer must pay the balance of a tax invoice issued to the Customer under clause 5.5 in Cleared Funds prior to the dispatch of any Goods or the supply of any Services pursuant to any accepted Order.
6.2 Notwithstanding clause 6.1, the Supplier may dispatch Goods or supply Services to the Customer prior to receiving payment in respect of a tax invoice where the Customer has a Credit Account with the Supplier.
6.3 For the avoidance of doubt, the Supplier is under no obligation to dispatch Goods or supply Services to a Customer that is in breach of the terms and conditions applying to its Credit Account.
6.4 If the Supplier is required under these Terms or otherwise to make payment of any amount to the Customer for any reason whatsoever, the Supplier may in its sole and absolute discretion set off the amount due and payable to the Customer against any amount due and payable by the Customer to the Supplier.
7. RETURNS & EXCHANGE
7.1 Unless otherwise required by law, the Supplier:
(a) is under no obligation to accept the return or exchange of Goods; and
(b) may in its sole and absolute discretion accept the return or exchange of Goods subject to the:
(i) return of the relevant Goods to the location specified by the Supplier;
(ii) Goods being unused, in original packaging, in new condition and being deemed saleable by the Supplier;
(iii) Goods not having been discontinued by the manufacturer, relevant distributor/wholesaler or the Supplier;
(iv) payment of a handling fee by the Customer equivalent to 10% of the price of the Goods to be returned or exchanged (or such other fee specified by the Supplier);
(v) request for return or exchange being received by the Supplier within 30 days of the invoice date (or such other period of time specified by the Supplier); and
(vi) acceptance by the Customer of any alternate and/or additional terms specified by the Supplier.
8. DELIVERY
8.1 Unless an accepted Order expressly provides otherwise, all Goods are sold ex works.
8.2 The Customer acknowledges and agrees that:
(a) the Supplier may in its sole and absolute discretion deliver Goods to the Customer which are the subject matter of a single Order separately (including without limitation to the generality of the foregoing on different dates); and
(b) if a delivery date is specified in an accepted Order, the Supplier will use its reasonable endeavours to deliver the relevant Goods or Services on or before that date but does provide any guarantee, warranty, or undertaking that the Customer will receive the Goods or Services by the specified date and shall not be liable for any loss or damage, as a consequence of delay in delivery (whatever the cause).
9. BAILMENT ARRANGEMENTS
9.1 The Customer acknowledges and agrees that any pallets which are in the possession and/or under the control of the Customer as bailee from time to time in connection with the delivery of Goods by the Supplier:
(a) must be returned to the Supplier, or its nominee, by the Customer, at its sole cost, within 28 days from the date the Customer comes into possession or control;
(b) shall take all actions reasonably necessary as to ensure that the pallets are not damaged, destroyed, or lost whilst in its possession or under its control.
9.2 The Customer indemnifies, and shall keep indemnified, the Supplier for any cost, loss, or damage suffered by the Supplier arising from the Customer's breach of clause 9.1.
10. TITLE TO GOODS
10.1 The risk of loss of, or damage to, the Goods will pass to the Customer on delivery.
10.2 Title to Goods delivered to the Customer will not pass to the Customer until the Buyer has paid all amounts it owes the Supplier in full.
10.3 Until paid for in full, the Customer must keep the Goods separately stored and marked as the property of the Supplier and must not:
(a) Create or allow any interest in, or dispose of or part with possession of, the Goods (or any part of the Goods);
(b) allow the Goods to be taken outside Australia; or
(c) allow the Goods to become an accession to or commingled with any other property.
10.4 If the Customer does not pay the Supplier the amount the Customer owes the Supplier for the Goods when due, the Supplier may, without prejudice to any other right of the Supplier, re-take possession of the Goods. The Supplier, its representatives, and agents may enter any land or premises for the purpose of re-taking possession. If the Supplier retakes possession of any Goods, it may deal with them as it thinks fit.
11. PPSA REGISTRATION
11.1 The Customer consents to the Supplier perfecting any security interest that it considers this document provides for by registration under the PPSA. The Customer agrees to do anything the Supplier reasonably requests to ensure that the security interest is enforceable, perfected, and otherwise effective.
12. DEFAULT
12.1 The Customer will be in default of these Terms if any of the following occurs (each an Event of Default):
(a) any amount (in whole or part) due and payable under these Terms is unpaid for 7 days after it was due (whether or not legally or formally demanded);
(b) the Customer neglects or fails to observe or perform any of the terms or obligations (expressed or implied) under these Terms and that default is:
(i) incapable of rectification; or
(ii) capable or rectification and has remained un-rectified for a period of 7 days after being given notice of the default; or
(c) the Customer suffers an Insolvency Event.
12.2 Upon an Event of Default, the Supplier, without prejudice to any other rights it has under these Terms, at law or in equity, may at its option immediately suspend or terminate any contract with the Customer without further notice, and payment for the Goods and Services provided up to the date of such suspension or termination and any other amounts payable under these Terms by the Customer will immediately become due and payable.
13. COSTS & INTEREST
13.1 Should the Customer fail to:
(a) make any payment under these Terms by the due date specified on the tax invoice (whether or not formally or legally demanded), the Supplier, without prejudice to any other right of the Supplier, shall have the right to impose interest on the overdue amount at the Prescribed Rate (Penalty Interest); and
(b) comply with these Terms, the Customer shall be liable on an indemnity basis for all costs incurred and loss and damage suffered by the Supplier including, without limitation, legal costs and mercantile agent fees incurred by the Supplier in recovering any amount outstanding by the Customer.
13.2 Penalty Interest imposed pursuant to clause 13.1(a) shall be calculated and accrue daily, until the overdue amount is paid in full, in Cleared Funds.
14. REPRESENTATIONS
14.1 The Supplier makes no representation and expressly disclaims that the Goods or Services are fit or suitable for any expressed or implied purpose or use.
14.2 The Customer unconditionally releases the Supplier from all claims (of any kind or nature) arising as a result of or in respect of the particular application or uses of the Goods or Services.
15. LIMITATION OF LIABILITY
15.1 The parties acknowledge that, under applicable State and Commonwealth laws, certain terms may be implied into these Terms, certain obligations may be imposed on the Supplier, and certain rights and remedies may be conferred on the Customer which cannot be excluded, restricted, or modified by contract (Non-excludable Rights).
15.2 Except for the Non-excludable Rights, the Supplier accepts no liability for:
(a) any claim (of any kind or nature) by the Customer or any other person, including (without limitation) any claims relating to or arising from all terms, conditions, guarantees, and warranties (expressed or implied), and all rights and remedies conferred on the Customer, by statute, the common law, equity, trade, custom or usage or otherwise;
(b) any representations, warranties, conditions, or agreements made by any agent or representative which are not expressly confirmed by the Supplier in writing, and the liability of the Supplier for any such matters is excluded.
15.3 Without prejudice to clause 15.2, the Supplier's liability for defective Goods or Services and loss caused by defective Goods or Services is limited, at the Supplier's option to either:
(a) repairing or re-supplying the Goods or Services; or
(b) refunding the price of the Goods or Services actually paid by the Customer and received by the Supplier.
15.4 Subject to the provisions of this clause, in no circumstances does the Supplier accept any liability (of any kind or nature) for any consequential loss or damage, loss of profits, or economic loss, which may in any way arise from the supply of Goods or Services by the Supplier.
16. NOTICES
16.1 Any correspondence or communication under or in connection with these Terms will be in written English and may be given or sent by registered letter, facsimile transmission, or by email delivery.
16.2 A notice sent by post is deemed to be received by the recipient 3 days after posting.
16.3 A notice sent by facsimile is deemed to be received by the recipient at the time and date specified on the sender's confirmation slip.
16.4 A notice sent by email is deemed to be received by the recipient at the time when a delivery confirmation report is received by the sender that records the time that the email was delivered to the addressee's email address (unless the sender receives a delivery failure notification indicating that the email has not been delivered to the addressee).
17. INTELLECTUAL PROPERTY
17.1 Each party acknowledges and agrees that all:
(a) Background IP remains the sole property of its owner and it has no right, title, or interest in or to the Background IP by virtue of any disclosure or use of Background IP in the course of the supply of Goods or Services under these Terms; and
(b) Right, title, and interest in any Project IP vests in, and is assigned to, the Supplier with immediate effect from its creation.
17.2 Each party grants the other a non-exclusive, royalty-free, non-transferable licence to use the Background IP owned by it to the extent necessary, and for the sole purpose of, performing its obligations arising under these Terms.
17.3 The Customer must:
(a) promptly and fully disclose all Project IP to the Supplier; and
(b) upon the request of the Supplier, at its own cost, sign all documents and do all things as may be necessary or desirable to give full effect to clause 17.1(b).
18. INFORMATION
18.1 The Customer consents to the Supplier collecting, holding, using, and disclosing the Customer's details and personal and trading information for the following purposes:
(a) administering (directly or indirectly) the Supplier's contracts and enforcing the Supplier's rights under these Terms;
(b) ascertaining (from time to time) the Customer's creditworthiness and obtaining (from time to time) credit reports, character references, or credit statements; and
(c) enabling the Supplier to notify any credit agency of any application for credit or default on any obligation of the Customer to the Supplier and enabling the Supplier to provide such information to any credit agency so such credit agency can maintain effective accounting records; and
(d) enabling the Supplier to correspond with the Customer for any purpose.
18.2 The Customer will within 7 days of a notice provide the Supplier with such information reasonably requested by the Supplier for the purposes contemplated under clause 18.1.
19. MISCELLANEOUS
19.1 The Customer will continually indemnify the Supplier against all claims in respect of any loss, damage, or injury (of any kind or cause) (including legal costs) that the Supplier may sustain as a result of or arising out of the acts and omissions of the Customer in performing or failing to perform or otherwise comply with these Terms.
19.2 The Customer agrees to notify the Supplier in writing of any change of ownership of the Customer within 7 days from the date of such change and indemnifies the Supplier against any loss or damage incurred by it as a result of the Customer's failure to notify the Supplier of any change.
19.3 The parties do not intend to and do not vest in any third party any right, power, remedy or benefit under these Terms.
19.4 The Supplier's consent may be given or discretion exercised in its absolute and unfettered discretion.
19.5 Any waiver of any breach of these Terms does not affect any other rights or remedies in respect of any other breach of the Terms.
19.6 The Supplier may assign any contract with the Customer. The Customer cannot assign any contract with the Supplier without the Supplier's prior written consent.
19.7 A part of these Terms that is illegal, unenforceable or inoperative must be read down to the extent necessary so that it is operational or must be severed from these Terms if it cannot be read down.
19.8 A legislative or regulatory enactment or amendment will not limit a term of these Terms unless application of the law is mandatory.
19.9 The law and courts of Western Australia and the Commonwealth of Australia exclusively apply to these Terms.
19.10 These Terms are not to be interpreted against the interests of a party merely because that party proposed these Terms.
How?
✔ Shipping is *FREE for all orders placed online, over the phone or via email.
✔ We ship Australia wide to street addresses only.
✔ We deliver Monday to Friday between 7am and 5pm.
✔ Click and collect is available at both VIC and WA depots. Simply place your order with us and it will be ready to collect within 15mins or sooner.
✔ All orders placed before 2:30pm will be dispatched the same day.
✔ Shipping times are based on goods being dispatched from your closest warehouse. Please discuss shipping times with one of our team members if your shipment is urgent.
✔ Shipping times are approximate and are sometimes subject to delays outside of our control. If your shipment is being sent interstate, we advise that you do not book in time critical works based on the goods arriving on time.
✔ Free shipping is applicable for all items except for our lighting pole, cage range and cage liners. Once you have placed your order, a team member will be in touch to advise the cost of freight, based on the delivery location and quantity of poles ordered. If this freight cost is too high, you can cancel or change your order prior to the order being dispatched.
When?
✔ Orders shipped to Melbourne, VIC and Perth, WA metro suburbs will be delivered on our Next Day service on our own delivery vans:
Order by 4pm = delivery 5pm Next Day. View list of Metro Suburbs included in this service.
✔ All other areas will be delivered via 3rd party freight company with the following ETA's: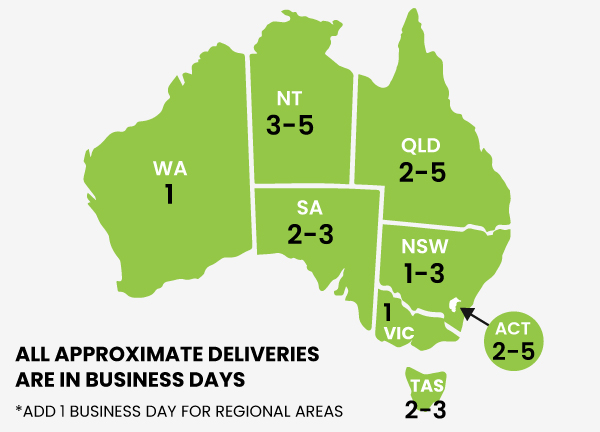 Why?
If you are not fully satisfied with or no longer require any product that has not been used, you can return it to us for a full credit, ZERO RESTOCKING FEE!
It just needs to be in resalable condition, in original packing and packed in an outer carton for protection during shipping.
When our team receives the returned goods, you will see a credit note hit your inbox within 48 hours!
How?
✔ Our team will arrange the collection of the products, we pay the freight back!
✔ Package the products in a box, ensure you remove any old shipping labels.
✔ We will email a shipping label to attach to the carton.
✔ Our courier or van driver will collect it from you.
Nedlands Group Privacy Policy
WEBSITE PRIVACY POLICY This web site is owned and operated by www.nedlandsgroup.com.au and will be referred to as "We", "our" and "us" in this Internet Privacy Policy. By using this site, you agree to the Internet Privacy Policy of this web site ("the web site"), which is set out on this web site page.
The Internet Privacy Policy relates to the collection and use of personal information you may supply to us through your conduct on the web site.
We reserve the right, at our discretion, to modify or remove portions of this Internet Privacy Policy at any time. This Internet Privacy Policy is in addition to any other terms and conditions applicable to the web site. We recognise the importance of protecting the privacy of information collected about visitors to our web site, in particular information that is capable of identifying an individual ("personal information"). This Internet Privacy Policy governs the manner in which your personal information, obtained through the web site, will be dealt with. This Internet Privacy Policy should be reviewed periodically so that you are updated on any changes. We welcome your comments and feedback.
Personal Information
1. Personal information about visitors to our site is collected only when knowingly and voluntarily submitted. For example, we may need to collect such information to provide you with further services or to answer or forward any requests or enquiries. It is our intention that this policy will protect your personal information from being dealt with in any way that is inconsistent with applicable privacy laws in Australia. Use of Information
2. Personal information that visitors submit to our site is used only for the purpose for which it is submitted or for such other secondary purposes that are related to the primary purpose, unless we disclose other uses in this Internet Privacy Policy or at the time of collection. Copies of correspondence sent from the web site, that may contain personal information, are stored as archives for record-keeping and back-up purposes only. Collecting information on registered members
3. As part of registering with us, we collect personal information about you in order for you to take full advantage of our services. To do this it may be necessary for you to provide additional information to us as detailed below.
4. Registration Registration is completely optional. Registration may include submitting your name, email address, address, telephone numbers, option on receiving updates and promotional material and other information. You may access this information at any time by logging in and going to your account.
5. Credit Card Details Credit Card details are only stored for the processing of payment and will be deleted once payment is processed. Disclosure
6. Apart from where you have consented or disclosure is necessary to achieve the purpose for which it was submitted, personal information may be disclosed in special situations where we have reason to believe that doing so is necessary to identify, contact or bring legal action against anyone damaging, injuring, or interfering (intentionally or unintentionally) with our rights or property, users, or anyone else who could be harmed by such activities. Also, we may disclose personal information when we believe in good faith that the law requires disclosure.
7. We may engage third parties to provide you with goods or services on our behalf. In that circumstance, we may disclose your personal information to those third parties in order to meet your request for goods or services. Security
8. We strive to ensure the security, integrity and privacy of personal information submitted to our sites, and we review and update our security measures in light of current technologies. Unfortunately, no data transmission over the Internet can be guaranteed to be totally secure.
9. However, we will endeavour to take all reasonable steps to protect the personal information you may transmit to us or from our online products and services. Once we do receive your transmission, we will also make our best efforts to ensure its security on our systems.
10. In addition, our employees and the contractors who provide services related to our information systems are obliged to respect the confidentiality of any personal information held by us. However, we will not be held responsible for events arising from unauthorised access to your personal information. Collecting Information from Users
11. IP Addresses Our web servers gather your IP address to assist with the diagnosis of problems or support issues with our services. Again, information is gathered in aggregate only and cannot be traced to an individual user.
12. Cookies and Applets We use cookies to provide you with a better experience. These cookies allow us to increase your security by storing your session ID and are a way of monitoring single user access. This aggregate, non-personal information is collated and provided to us to assist in analysing the usage of the site.
Access to Information
13. We will endeavour to take all reasonable steps to keep secure any information which we hold about you, and to keep this information accurate and up to date. If, at any time, you discover that information held about you is incorrect, you may contact us to have the information corrected.
14. In addition, our employees and the contractors who provide services related to our information systems are obliged to respect the confidentiality of any personal information held by us. Problems or questions
15. If we become aware of any ongoing concerns or problems with our web sites, we will take these issues seriously and work to address these concerns. If you have any further queries relating to our Privacy Policy, or you have a problem or complaint, please contact us.
16. For more information about privacy issues in Australia and protecting your privacy, visit the Australian Federal Privacy Commissioner's web site; http://www.privacy.gov.au/ This Privacy Policy has been specifically drafted for and provided to www.nedlandsgroup.com.au by LawLive Pty Ltd (www.lawlive.com.au).
Our Warranty Policy, warrants all relevant products for the specified period from the date of purchase, for faulty parts and materials. Replacement of all faulty products will be supplied to the customer, in line with the below warranty T & C's. The tax invoice for the goods originally purchased is the warranty document.
Warranty period summary:
✔ Switchgear: 25 year lifetime warranty.
See product sales description or data sheet for applicable warranty period for each product.
How to claim?
Please contact our team 1800 909 306 or email [email protected] with details of the warranty issue and we will resolve it for you within the first phone call!
This warranty is subject to the following terms and conditions but does not exclude the customer from statutory rights under the Trade Practices Act and similar State and Territory Laws.
Warranty Terms & Conditions:
✔ The warranty is valid for products purchased from the Nedlands Group in the instance, where it has been installed by a sufficiently qualified Electrician in accordance with the installation instructions provided with each product.
✔ Warranty is voided if the product is modified or damaged in any way.
✔ The customer agrees upon the purchase of any Nedlands Group products that they will not rely on the advice / guidance given by Nedlands Group in relation to the suitability of the product for any particular application.
✔ Product warranty is valid only for installation to the correct voltage supply.
✔ Nedlands Group is not liable to any damage to property or persons, caused by incorrect installation and or use.
We recognise the responsibility of supplying into the electrical industry, the importance of ensuring compliance and quality of products we provide our customers with. All our products are built in accordance with the relevant Australian & NZ standards, ensuring peace of mind for the installer.
View our statutory declaration which details some of the standards our products are compliant with.